API 400A O3 analyzer
The UV Absorption Ozone Analyzer is a microprocessor-controlled analyzer that uses a system based on the Beer-Lambert law for real-time measurements of low ranges of ozone in ambient air. Detection limits are in the ppbv range.
Manufacturer: API
Location: WB facility (Field Measurement). MAPLE
http://www.ashtead-technology.com/us/Environmental/Content/151_G.html
Teledyne 300 CO analyzer
The carbon monoxide analyzer measures CO in the range of 0-100 ppb and/or 0-100 ppm with a 10-second time resolution. Using the Beer-Lambert law, this instrument determines the difference in absorption of infrared energy by ambient air and a reference gas to determine the concentration of CO.
Manufacturer: Teledyne API
Location: WB facility (Field Measurement). MAPLE
http://www.teledyne-api.com/products/300e.asp
Thermo 410i CO2 analyzer Chemiluminescent NO/NO2 /NOX Analyzer – Thermo 42i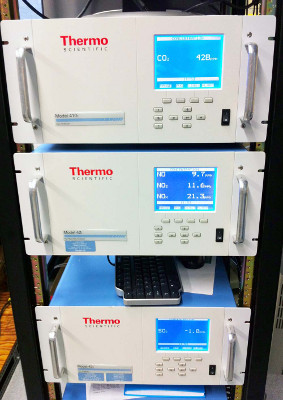 The Chemiluminescent NO/NO2 /NOX Analyzer is capable of providing real-time measurements either NO, NO2, or NOx concentration on a ppbv basis. The instrument operates using chemiluminescence detection and microprocessor technology.
Manufacturer: Fisher Scientific
Location: WB facility (Field Measurement). MAPLE
Image Available: Yes
Recordum Airpointer for O3, NOx, PM
AirPointer is a multi-gas and particle monitoring platform that can measure a wide variety of pollutants (O3, NO, NO2, NOx, PM2.5).
Manufacturer: Recordum
Location: WB facility (Field Measurement)
TSI 3480 electrospray aerosol generator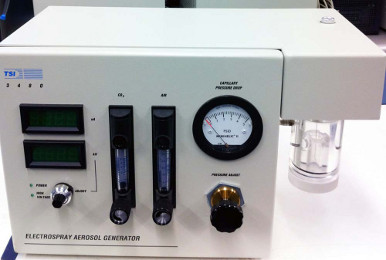 The 3480 electrospray produces high concentrations (~ 107 /cm-3) of monodispersed particles from 2 to 100 nm (uniform in size and shape).
Manufacturer: TSI Inc.
Location: WB facility (Field Measurement). MAPLE
Columbia Orion Weather Station

WeatherHawk 510 Weather Station
MultiGas™ 2030-HS High Speed (5 Hz) FTIR Gas Analyzer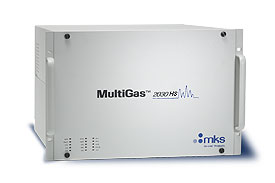 The MultiGas™ 2030 HS is a high speed, high resolution FTIR based gas analyzer designed to monitor automobile, diesel, locomotive, and catalyst combustion exhaust emissions at 5 measurements per second (5Hz).
The MultiGas™ 2030 HS gas analyzer is composed of a high speed 0.5 cm-1 process-hardened FTIR spectrometer. This FTIR spectrometer incorporates a patented 5.11 m high-optical-throughput 200 mL gas sampling cell capable of 100 L/m flow rate no backpressure or noise that would degrade the quantitative measurement. The analyzer generally incorporates a high sensitivity liquid nitrogen cooled MCT detector that can maintain cryogenic temperatures for up to 12 hours on a single charge and up to 3-4 days with an additional 5L external dewar. The system is delivered complete with easy to use software and system diagnostics, calibration, installation and training.
Manufacturer: MKS Technology for Productivity
Location: Mechanical Building (120)
Q-Trak Indoor Air Quality Monitor
The Q-Track is a portable instrument used to provide real-time measurements of indoor air quality parameters. The instrument is equipped with a data logger, and is capable of measuring CO2concentration, CO concentration, temperature, and humidity. The Q-track can calculate dew point, wet bulb temperature, and percent outside air.
Manufacturer: TSI Inc.
Location: WB facility (Field Measurement)
SO2 Fluorescent Analyzer – Thermo 43C SO2
The SO2 Fluorescent Analyzer measures the concentration of low level sulfur dioxide in real-time on a ppbv basis. This instrument relies of principles of UV fluorescence and uses microprocessor technology to determine either the average or instantaneous SO­2 concentration with the assistance of built-in data acquisition.
Manufacturer: Teledyne API
Location: WB facility (Field Measurement). MAPLE
Image Available: Yes